Temporary Certificates for Transportation of Dangerous Goods (TDG) – Expired and Current. Be in the know!
By: Kirsten Alcock, Manager of Product Safety, email
When Covid first started back in 2020 within Canada, Transport Canada provided some temporary certificates to help facilitate the transport of dangerous goods throughout Canada.  While many believed that sanitizers are not dangerous, most of the approved ones are. Many contain flammable ingredients such as ethanol or isopropanol and are to be shipped as such under Class 3 or Class 4.1 designation.
In order to facilitate these shipments throughout Canada, Transport Canada graciously provided a way to do this more easily. They created some 'temporary certificates'. It is important to note that some of these certificates have expired.
As you can see from the below, there are two that have expired and as such, you are expected to be in compliance with the regulations for those two predicaments.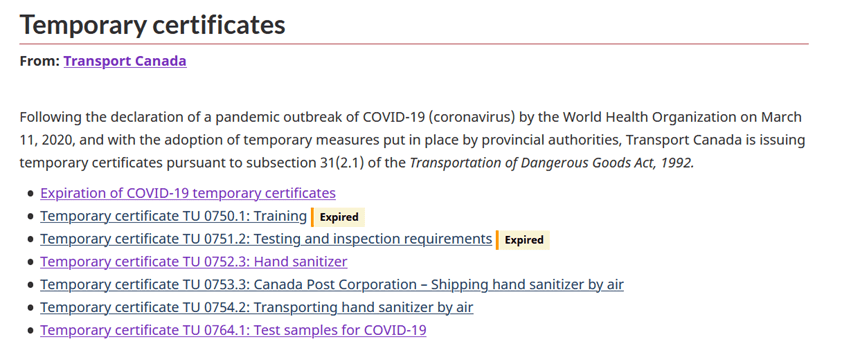 If you need help with knowing your requirements, do not hesitate to contact us.
We can help you:
Determine the appropriate UN Number, Shipping Name and Description, Class and Packing Group
Help you determine if your product can be shipped as a Limited Quantity
Prepare a Proof of Classification for your product
Advise on different exemptions you may be able to take advantage going forward
We have the experience to know what Transport Canada is looking for as we have been working with their inspectors for many years. Contact us today!
Contact:
Dell Tech
Kirsten Alcock, B.Sc. (Hons) 
Manager, Product Safety Group
519-858-5074
kirsten@delltech.com
---
Dell Tech has provided professional, confidential consulting services to the chemical specialty
industry in Canada, the USA, Europe, and Asia for the last 40 years.
Contact us today for more information.