How To Test Flammable Solids
By: Kate Hatherley, C.Tech., Laboratory Technical Specialist
Overview: UN Manual of Tests and Criteria, Part III, Section 33.2.4 – Test N.1 Test Method for Flammable Solids
In today's article, we review how testing flammable solids is performed.
Purpose
This standard flammable solid screening test and burning rate test is performed to determine the classification of a material or substance for the purposes of transportation and shipping under the Transportation of Dangerous Good (TDG) Regulations.
A flammable solid as defined in 2.7.1 of the Globally Harmonized System (GHS) of Classification and Labelling of Chemicals, "is a solid which is readily combustible, or may cause or contribute to fire through friction".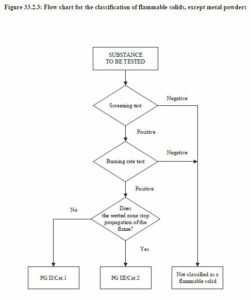 Method
The standard testing method used to classify a material as a flammable solid comes from Part III of the United Nations (UN) Manual of Tests and Criteria. The testing method is Section 33.2.4 – Test N.1: Test Method for Flammable Solids. The N.1 Test Method includes two procedures: a preliminary screening test, and a burning rate test.
The preliminary screening test is carried out by igniting the sample in its commercial form, cut to specified dimensions, and observing the burning time and distance of the ignited substance. The result of this test determines if the additional testing is required.
If the substance does not ignite and flame propagation is present beyond 200mm within 2 minutes in this first test, then the substance will not be classified as a flammable solid and no further testing is required.
For substances that do propagate burning in the preliminary screening test, the burning rate test will be completed to determine whether the material tested falls into one of three groups:
Flammable solids, packing group II/Category 1
Flammable solids, packing group III/Category 2
Non flammable solid
Testing Limitations
This method is not appropriate for all substances, specifically combustible dust analysis.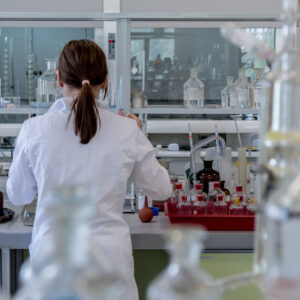 Price
Dell Tech's pricing for chemical lab testing services is competitive by industry standard. We quote projects based on method, sample size and special requests for expedited turnaround time.
Delivery time
The typical turn-around time for combustible solids testing is 10 to 15 business days from receipt of samples, sample submission form, Safety Data Sheet (SDS), and confirmation of payment (Purchase Order or credit card authorization). If you need a safety data sheet, Dell Tech can author one for you.
Dell Tech provides an option for expedited turnaround time for a priority rush fee. Please let our team know if you would like to be quoted for expedited turnaround time when requesting a lab services quote.
After testing is complete, we present test results in a comprehensive report and provide the opportunity to review those test results with your team as needed.
How Can I Send My Samples for Testing to Canada?
Samples may be shipped by courier or mail. They should be clearly noted as laboratory testing samples on customs declaration forms.
For glass containers, ensure proper spacing between containers and cushioned packaging to prevent breakage.
Please follow Transportation of Dangerous Goods (TDG) shipping requirements when shipping flammable or potentially flammable materials.
Related Test Methods Available at Dell Tech
Dell Tech provides Hazard Classification, Claim Substantiation and EcoLabel Performance Testing in our ISO 17025 Accredited Laboratory. In addition to the N.1 Test Method for Readily Combustible Solids, our team offers testing on flammable liquids and flammable aerosols as well. See the list below:
Flammable Liquids
UN TDG Method L.2: Sustained combustibility test
Flammable Aerosol Testing
GHS/UN TDG: Ignition distance testing for spray aerosol
GHS/UN TDG: Enclosed space ignition testing
GHS/UN TDG: Aerosol foam flammability testing
16CFR1500.45: Method for determining extremely flammable and flammable contents of self-pressurized containers
CCCR Schedule 1: Test for determining the flashback and the length of the flame projection of a flammable product enclosed in a spray container
Health Canada Official Method DO-30: Determination of flame projection
Health Canada Method C31.2: Sustained combustibility of aerosol foam of consumer products
Cannot find what you are looking for or are you curious about how we can help?
If you cannot find what you're looking for on this page, try searching to find your service by product or talk to our team today.
For More Information, Contact Client Services:
Kim Samela
---
Dell Tech has provided professional, confidential consulting services to the specialty chemical
industry in Canada, the USA, Europe, and Asia for the last 40 years.
Contact us

today for more information.