Cosmetic Regulations
Cosmetic regulation in Canada is changing. Personal care products now need to comply with ECCC, VOC regulations. And cosmetic manufacturers & importers are required to submit a Cosmetic Notification Form (CNF) to Health Canada for each product they have on the market. Dell Tech's regulatory team can help your company ensure your products meet safety requirements and prepare & submit CNFs on your behalf.
HOW DELL TECH CAN HELP WITH  YOUR COSMETIC COMPLIANCE
Formula Assessment
CEPA assessment including VOC classification and % VOC calculation
Product Evaluation & Classification
Label Review & Development
Cosmetic Notification Form (CNF) Submission
General Consulting on product claims
SDS Authoring for Cosmetics stored or used in workplace settings
Cosmetic Regulations
Cosmetic products like makeup, moisturizers and other skincare, do not require pre-market approval for sale in Canada; however, manufacturers and importers of these products are required to submit Cosmetic Notification Forms (CNF). They are also responsible for ensuring  ingredients meet Canadian safety standards, including checking the Cosmetic Ingredient Hotlist, and ensuring that labels/marketing materials do not make therapeutic claims.
Sometimes, the same product has more than one possible pathway to registration for sale in Canada. Where this applies to your product, Dell Tech's regulatory consultants will outline the cost, timeline and claim/label requirements available so that you can make the best decision for your business while ensuring you bring a compliant product to the Canadian market.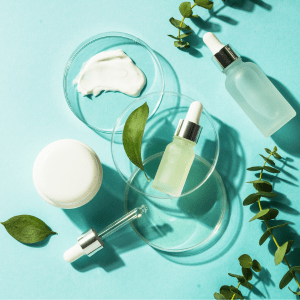 Frequently Asked Questions about Cosmetic Regulations:
What are the key laws and regulations governing cosmetics in Canada and the United States?
In Canada and the United States, cosmetic products are regulated by federal government agencies. Both countries have strict guidelines for labeling, ingredient safety and advertising claims to protect consumers and maintain the integrity of the cosmetics industry.
Canada: Health Canada; Food and Drugs Act and the Cosmetic Regulations
Cosmetic products imported, manufactured or sold in Canada are also subject to the Canadian Environmental Protection Act, which regulates ingredient safety and impact on the environment.
United States: Food and Drug Administration (FDA); Federal Food, Drug, and Cosmetic Act
What information must be included on a cosmetic product label to comply with Canadian cosmetic regulations?
Cosmetic product labels must include the product's name, net quantity, list of ingredients (in descending order of concentration), the name and address of the manufacturer or distributor, usage instructions, and any potential warnings or precautions. Dell Tech will review your formulation against the Cosmetic Ingredient Hotlist and complete a thorough claims review to ensure your product stays within the framework of acceptable claims for cosmetics. If necessary, we will help you tailor your claims to ensure cosmetic compliance or alternatively, we can assist you with registering the product as a Drug or Natural Health Product (NHP) instead.
What information is included in a Cosmetic Notification Form to Health Canada?
To submit a compliant Cosmetic Notification Form (CNF) to Health Canada, Dell Tech requires that companies provide:
Product formulation (ingredient names, CAS numbers and percentages)
Product's intended use
Product claims
Additional product labelling information
Companies must ensure that all necessary information is accurately provided to comply with the respective regulations.
Are cosmetic products subject to environmental regulations in Canada or the United States?
Both Canada and the US have laws aimed at protecting the environment from potentially adverse effects of cosmetic products. This includes restrictions on ingredients that may be harmful to the environment, such as microbeads. Manufacturers may be required to follow specific waste disposal and packaging regulations to minimize the environmental impact of cosmetic products. Overall, the goal is to ensure that cosmetics are manufactured, used, and disposed of in a way that is environmentally responsible and sustainable for the future.
What is the shelf life of a cosmetic product, and how is it determined?
The shelf life of a cosmetic product refers to the period during which the product remains safe and effective for use after its manufacturing date. Shelf life is determined through stability testing, where the product is subjected to various conditions, such as temperature and light, to assess its chemical and physical stability over time.
Based on the results of these tests, manufacturers can determine the product's expiration date and provide appropriate storage instructions on the packaging to ensure consumers use the product safely and effectively within its designated shelf life.  An expiration date is not required on cosmetics in Canada however you are expected to have the test data to support your product.
Learn More about Cosmetic Regulations from Our Team's Most Popular Blogs: