Corrositex® Results – Can I use these test results within my TDG Proof of Classification?
By: Kirsten Alcock, Manager of Product Safety, email
Many of our clients are coming to us these days for help with their Proof of Classification. A Proof of Classification is something that needs to be created for products that are being shipped as Dangerous Goods (DG) within Canada.
Basically, a Proof of Classification can be the following:
a test report;
a lab report; or
a document that explains how the dangerous goods were classified.
The Proof of Classification must include the following:
the date on which the dangerous goods were classified;
if applicable, the technical name of the dangerous goods;
the classification of the dangerous goods; and
if applicable, the classification method used under this Part or under Chapter 2 of the UN Recommendations.
Many of our clients are starting to use alternative testing for corrosivity – Class 8 for shipping. When doing so, you must ensure that the test you choose is one that is acceptable for the regulations you are trying to abide by. As I mentioned in an earlier blog,  there has been a push for companies not to test on animals.  It is very clear that this trend will continue into the future so it is important to know which tests are acceptable to use for your classifications. Canadian regulators are asked to look into new tests that are up and coming to determine what they would find acceptable in lieu of actually testing on live animals.
CORROSITEX is one of those tests that you can use to help classify your products for transportation.  CORROSITEX (OECD 435) can be used to test and classify a product for skin corrosion.  It is a validated OECD in vitro method that Dell Tech has offered our clients for many years now.  This particular test does not use live animals but instead uses a membrane barrier to determine if your product is 'corrosive to skin'.
The following are the current criteria for Class 8, Corrosives. You can see that this aforementioned OECD method is mentioned as acceptable below: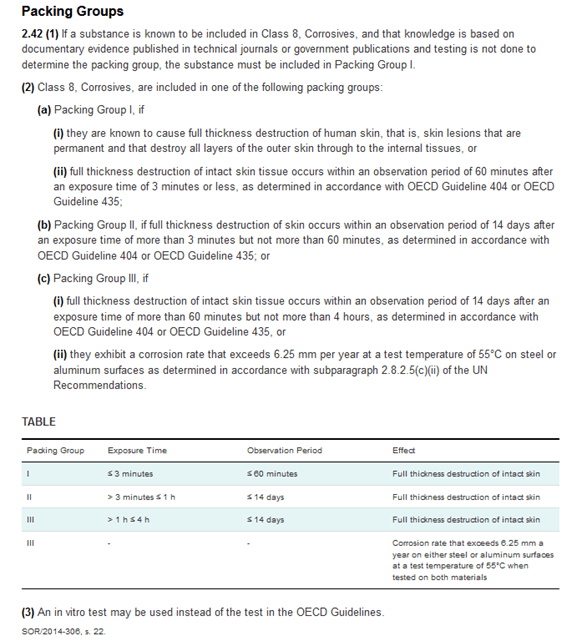 Dell Tech and Corrositex® can help you:
Remove the corrosive symbol from your shipping boxes,
Save money and time by lowering packing and shipping costs,
Downgrade your packing group for shipping enabling you to ship larger quantities using current shipping exemptions,
Avoid controversial animal testing.
Please note that the requirement to test for Metal Corrosion may still be present depending on your chemical composition. Dell Tech can also test for this in-house. We are your one-stop shop for your SDS and testing.
If you would like more information on our CORROSITEX or Metal Corrosion Testing, let us know.
Contact:
Dell Tech
Kirsten Alcock, B.Sc. (Hons) 
Manager, Product Safety Group
519-858-5074
kirsten@delltech.com
---
Dell Tech has provided professional, confidential consulting services to the chemical specialty
industry in Canada, the USA, Europe, and Asia for the last 40 years.
Contact us today for more information.