Canadian CCCR 2001 Requirements: CRC's (Child-resistant Containers) – When are they required?
By: Kirsten Alcock, Manager of Product Safety, email
Consumer/Retail products intended for sale in Canada must meet not only the phrase requirements as per the existing CCCR 2001 but there may be additional requirements: CRCs (Child-resistant Containers).  In Canada, there are specific requirements for when a CRC is mandated for consumer/retail non-registered products.
If we look into the CCCR 2001 regulations, the information on CRC's is found in section 9. This section contains information about the actual CRC itself. Information on how the container must be constructed and the test protocol requirements are set out here. If you are selling a product that needs the CRC, please ensure that you are using a container that has been tested appropriately according to these requirements. If possible, obtain a letter from your container supplier. Health Canada will ask for this information in a recall.
The first question you must ask yourself is, do I need CRCs for my products?
In Canada, the requirement for a CRC is based on the CCCR classification. Not all hazardous products under CCCR 2001 would require a CRC.  If you look into the individual classifications, you will be advised within the regulations if a CRC is indeed required.
An example of this can be found with products that are considered Toxic under these regulations. When a product is classified as toxic, the product MUST be placed into a CRC unless it meetings the exemptions laid out in the regulations. Here is an example of how it is written into the CCCR 2001 regulations: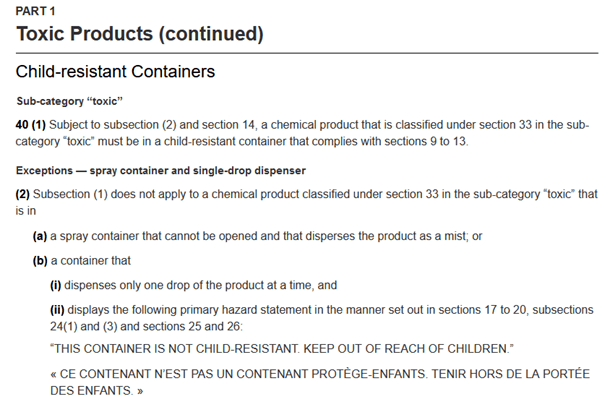 Please note that this is NOT the only classification that requires a CRC. There are other classifications under this regulation that warrant this requirement as well.
Contact us for further information on how we can help you meet your compliance for CCCR 2001 in Canada. We have the experience to know what Health Canada is looking for and can provide you with a report that includes the mandatory information in English and French as well as advise on the requirement for a CRC if required.
Contact:
Dell Tech
Kirsten Alcock, B.Sc. (Hons) 
Manager, Product Safety Group
519-858-5074
kirsten@delltech.com
---
Dell Tech has provided professional, confidential consulting services to the chemical specialty
industry in Canada, the USA, Europe, and Asia for the last 40 years.
Contact us today for more information.