Canadian CCCR 2001 Consumer/Retail Label Reviews
By: Kirsten Alcock, Manager of Product Safety, email
Consumer/Retail products must be accurately labeled in order to be sold in Canada. Any product that is manufactured for non-commercial purposes, such as household and personal use, must adhere to the specific consumer regulations and hazardous material classifications in accordance with the CCCR 2001 Regulations in Canada. Conducting a consumer chemical label review is required to ensure your product is meeting the regulations.
Chemical consumer/retail products include, but are not limited to products such as dishwashing detergents, multi-purpose cleaners, air fresheners, paints, and products intended to clean your kitchen and bathroom floors. These are common items you may will find on the shelf of a retail store such as Walmart, Home Depot, Shoppers Drug Mart or Canadian Tire.
It is important to note that consumer products do not include products that require specific registrations, such as drugs, sanitizers, cosmetics, disinfectants, pesticides, and natural health products.  These have their own requirements and therefore CCCR 2001 is not applicable.
As consumer products are sold and used in different environments than workplace products, separate regulations are required to address the hazards that may be unique to each scenario. While the workplace takes into account that products will be used in larger amounts and for a longer duration, different classification systems are required. In Canada, the consumer regulations do not include chronics such as carcinogens and reproductive toxins whereas the workplace is very much concerned with these types of chemical product exposures.
The CCCR 2001 (Consumer Chemicals and Containers Regulations, 2001) Falls under the Canada Consumer Product Safety Act.  There are specific classifications that required mandatory phrases as dictated in Canadian English and Canadian French as dictated by Health Canada.  The regulations themselves include the test methods that Health Canada will accept, the format they want to see the information in as well as the print specifications. It is all outlined in the regulations for all to see and is available for download from Health Canada.
Here is an example of one of the tables within the regulations that provides guidance to determine if your product is corrosive or not.  Please note that this is not the only chart to look at when determining if your product is corrosive or not. There are many more requirements and assessments that must be performed to determine if the category of Corrosive is required.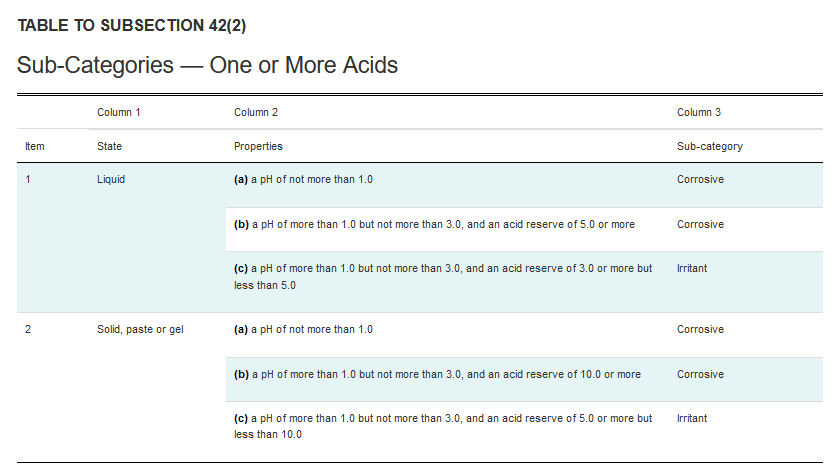 As you can see from this example, the regulations advise of the requirement for an acid reserve to determine the classification.  If you have then determined based on your assessment that the product is considered Corrosive under the CCCR criteria, there is another chart that they provide showing you the symbol requirements, signal word, primary hazard statement, specific hazard statement, negative and positive instructions, first aid statements etc.
Here is an example of some of the information required on a corrosive product under the CCCR 2001. Please note that the below only contains some of the statement requirements. For the full, complete information, please see the regulations online or contact us for further help.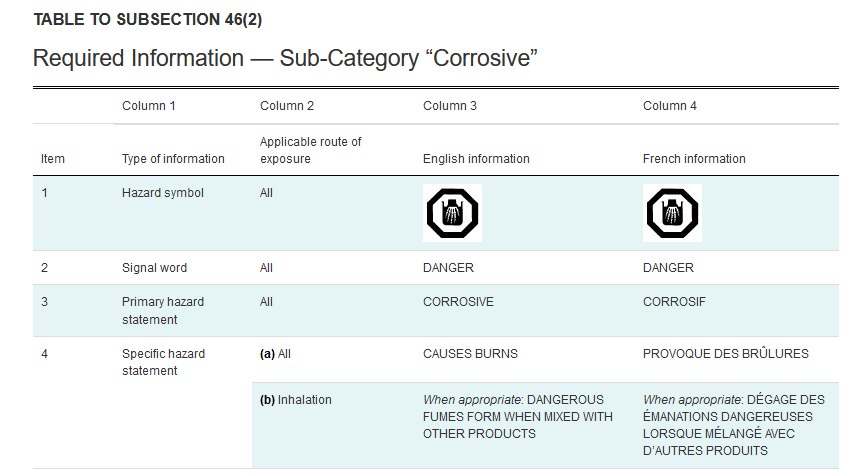 Contact us for further information on how we can help you meet your label compliance for CCCR 2001 in Canada. We have the experience to know what Health Canada is looking for and can provide you with a report that includes the mandatory information in English and French. We can also help provide properly translated labels into Canadian French for the non-mandatory information such as your marketing materials and product use instructions.
Contact:
Dell Tech
Kirsten Alcock, B.Sc. (Hons) 
Manager, Product Safety Group
519-858-5074
kirsten@delltech.com
---
Dell Tech has provided professional, confidential consulting services to the chemical specialty
industry in Canada, the USA, Europe, and Asia for the last 40 years.
Contact us today for more information.