CCCR Vs. GHS Symbols. Is there a difference?
By: Kirsten Alcock, Manager of Product Safety, email
Canadian companies for many years have had to deal with the different requirements for consumer versus workplace. The symbols have always been different.  At this point in time, there is no push to have both consumer and workplace on the same system so it is important that you know which realm you want to sell to and what are the applicable symbols/pictograms for that realm.
To this day, I continue to see improper symbols in consumer settings. Every time I go to a big box store, I'm seeing European labeling with GHS (Globally Harmonized System) symbols on products that REQUIRE a CCCR (Consumer Chemicals and Containers Regulation) symbol and a potential CRC (Child Resistant Closure) package. Please make sure that you discuss this with your European counterparts if you are importing goods to Canada. We do not use GHS symbols in the consumer setting. This could lead to a RECALL of your product from the shelves which is not only an expensive thing to endure but also very bad publicity. In this day and age, do you want bad publicity such as this? Do you want to take that risk?
Below I will provide the appropriate symbols for you to sell your non-registered, hazardous product to Canada.
WORKPLACE: Schedule 3 of the Hazardous Products Regulations contains the mandated symbols and pictograms that must be on a Canadian SDS and Label to be compliant.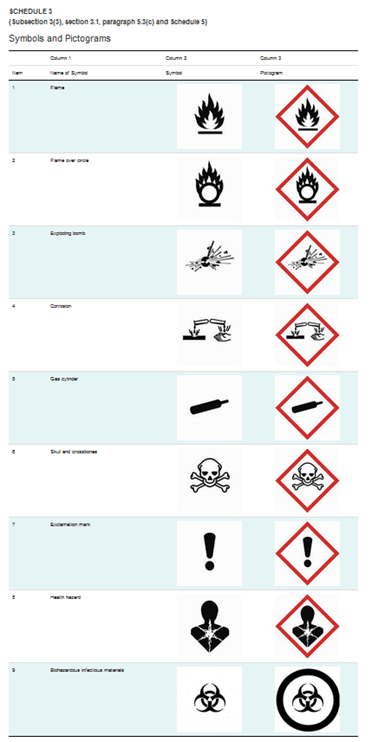 CONSUMER/RETAIL: Schedule 2 of the Consumer Chemicals and Containers Regulations, 2001 (CCCR) is where the Consumer symbols are located.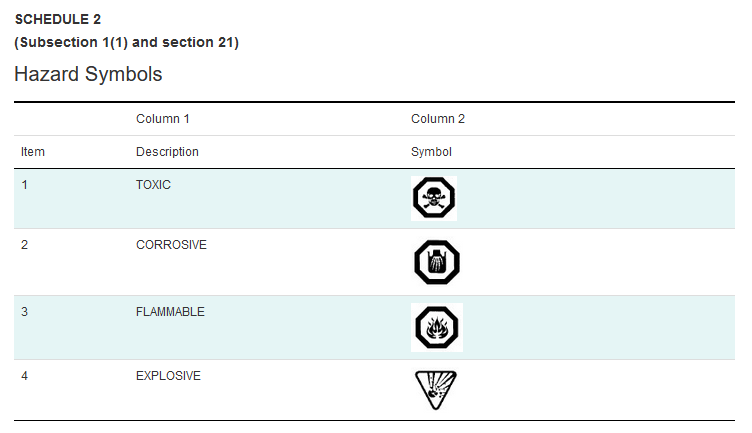 You will note that there are not as many symbols for consumers as there are for workplace. In Canada, we do not classify for Chronics in the consumer realm. For the GHS you will see the Health Hazard exploding human requirement. In the consumer realm, you will not be classified as hazardous if your only hazard is a chronic one.  One must know these differences to accurately classify and label your product before it hits the shelves or enters a workplace here.
If you have any questions regarding WHMIS 2015 or CCCR, 2001 symbol/pictogram requirements, do not hesitate to contact us. We can help you understand the current regulations under the Hazardous Products Regulations (HPR) as well as the Consumer Chemicals and Containers Regulations, 2001 (CCCR). We will provide an SDS and complimentary label that uses the appropriate symbol for the workplace  or help you create the required information for your consumer label.
Contact us for further information.
Contact:
Dell Tech
Kirsten Alcock, B.Sc. (Hons) 
Manager, Product Safety Group
519-858-5074
kirsten@delltech.com
---
Dell Tech has provided professional, confidential consulting services to the chemical specialty
industry in Canada, the USA, Europe, and Asia for the last 40 years.
Contact us today for more information.