CCCR 2001 – Canadian Consumer Chemicals and Containers Regulations. Is it applicable to my product?
By: Kirsten Alcock, Manager of Product Safety, email
When you are looking to sell your product to another country, you must determine if there are regulations that are applicable to your product. Are you making any claims? Where do you plan on selling your product – workplace or retail/consumer?  These main questions must be determined first before you take the next step.
If you have determined you wish to sell your product to Canada and you are not making any claims such as but not limited to disinfecting, your product may fall under the CCCR 2001 Regulations in Canada. Conducting a consumer chemical label review is required to ensure your product is meeting the regulations in Canada. There are many differences between the classification requirements in the US and Canada. Although we may share a border, we are very different in the requirements. It is a common misconception to think that the only difference is that the Canadian label must be in French but this is not true. We have our own classification system here which leads to very different label statements. Before you send your product across the border, be sure to be labeling in compliance with the CCCR 2001.
At this point in time, there five different classifications under the CCCR.
Toxic Products
Corrosive Products
Flammable Products
Quick Skin-bonding Adhesives
Pressurized Containers
Some of these classifications can be further divided and the requirement for a symbol may/may not be required.
The following  are the symbols that you may require for your product label: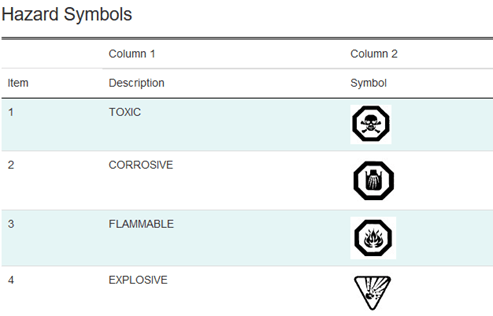 If we were to look into the US consumer regulations, one would see that they have different requirements for their products. One notable difference is the addition of Chronic classifications. At this point in time, Health Canada has not implemented requirements for chronic labeling for regular consumer products.  In addition to the US implementing requirements for Chronics, they are many other differences between the two countries when it comes to classifications.
Contact us for further information on how we can help you meet your label compliance for CCCR 2001 in Canada. We can help you determine which classifications are appropriate for your product, if any. We have the experience to know what Health Canada is looking for and can provide you with a report that includes the mandatory information in English and French. We can also help provide properly translated labels into Canadian French for the non-mandatory information such as your marketing materials and product use instructions.
Contact:
Dell Tech
Kirsten Alcock, B.Sc. (Hons) 
Manager, Product Safety Group
519-858-5074
kirsten@delltech.com
---
Dell Tech has provided professional, confidential consulting services to the chemical specialty
industry in Canada, the USA, Europe, and Asia for the last 40 years.
Contact us today for more information.