WHMIS 2015 GHS Symbols and Pictograms – If my product is hazardous, why do I not have a symbol?
By: Kirsten Alcock, Manager of Product Safety, email
When I send a Globally Harmonized System (GHS) Safety Data Sheet (SDS) draft to my clients, I often have questions surrounding the GHS Symbols and GHS Pictograms. What does this symbol mean? Do I need to have all the symbols on the SDS?  Why don't I have a symbol?
Today I will be discussing the lack of a symbol requirement for certain classifications. This is VERY rare but there are certain classifications that Canada adopted that do not come with a GHS Symbol/Pictogram requirement.
First, let's back up for one second and learn a bit about Canada. Canada is currently using GHS Version 5 statements for our SDSs. These can be different from other countries around the world so please ensure if you are wanting to sell your product to Canada, you comply with our regulations.
When the new GHS regulations came into effect in Canada in 2015, referred to as WHMIS 2015, we moved over to a different set of symbol requirements than what we had under the Controlled Products Regulations (CPR). These are now referred to as Symbols and Pictograms. Under the new Hazardous Products Regulations (HPR), these new ones can be found in Schedule 3. There are some consistencies between the past and present regulations as far as some of the 'picture' requirements but you will now notice that they are no longer within a circle and there is the color component red to them (note biohazardous infectious materials stays within a circle). In these new regulations, there are different symbols available for us to use such as the health hazard.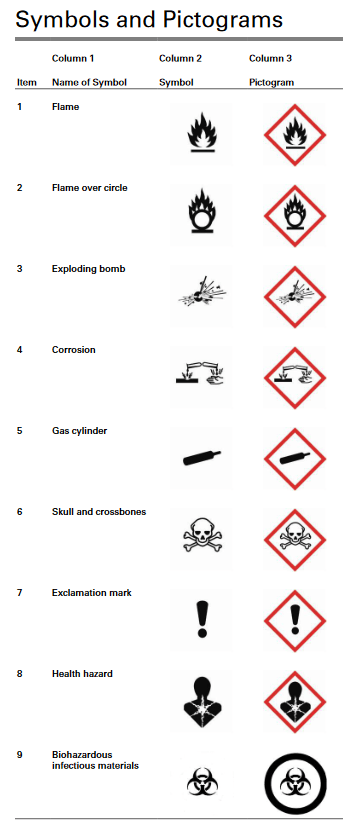 At this point in time, there are some classifications that do not need a symbol. If we look at the requirements for a hazard category 4 under flammable liquids, you'll notice that there are statement requirements but no symbol requirement.

There are a few more categories where this happens so please be aware that your product can still be HAZARDOUS under the WHMIS 2015 regulations but not actually require a GHS Symbol or Pictogram.
If you have any questions regarding the current WHMIS symbol/pictogram SDS and label requirements, do not hesitate to contact us. Contact us for further information on how we can help you meet your label compliance for the GHS (Globally Harmonized System).
Contact:
Dell Tech
Kirsten Alcock, B.Sc. (Hons) 
Manager, Product Safety Group
519-858-5074
kirsten@delltech.com
---
Dell Tech has provided professional, confidential consulting services to the chemical specialty
industry in Canada, the USA, Europe, and Asia for the last 40 years.
Contact us today for more information.