Canada Consumer Label Requirements
Canadian consumer products are regulated under the Consumer Chemicals and Containers Regulations, 2001 (CCCR 2001) which falls under the Canada Consumer Product Safety Act. Selling your product in the US too? Check out our US chemical label requirements services too.
CANADA CHEMICAL LABEL REQUIREMENTS
We know end-user safety is of paramount importance to you and your organization. Let Dell Tech's product safety team help you keep customers safe while ensuring compliance with Canada's Consumer Chemicals and Containers Regulations, 2001 (CCCR 2001).  Our knowledgeable and professional Technical Consultants will review chemical product formulations and provide a report including a template with the bilingual precautionary text necessary for your product label.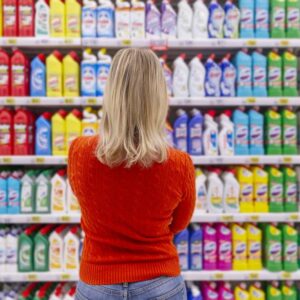 Contact our team today to discuss how Dell Tech can help you.
Frequently Asked Questions about Canada Chemical Label Requirements
What are consumer products?
Consumer products are products that the general public can purchase and use for non-commercial purposes, such as for domestic, recreational, and sport purposes. These products are usually available through retail stores or online suppliers. Examples of consumer chemical products are home diffusers, cleaning supplies, adhesives and paints.
What products are not subjected to the Canada Consumer Product Safety Act?
Can I use my WHMIS label for my consumer products?
No. The Workplace Hazardous Materials Information System (WHMIS) is specifically designed for hazardous materials in the workplace. Consumer products must comply with the Consumer Chemicals and Containers Regulations (CCCR), which have their own specific labeling requirements.
Would using a chemical consumer product in a workplace be a concern?
Yes. Consumer products are typically evaluated based on intermittent and short-term use, such as occasional cleaning in a home environment. In a workplace setting where individuals may be exposed to the product for extended periods or in larger quantities, there can be an increased risk of health effects.
Can I combine my Canadian and USA consumer product label?
Combining Canadian and US chemical consumer product labels is complex due to the differences in regulations and standards between the two countries. Each country has its own set of requirements for labeling products. Depending on the classification of the product in each jurisdiction, it may be possible to combine the labels.