Canadian Consumer Compliancy: CCCR 2001 – Label Requirements: Units
By: Kirsten Alcock, Manager of Product Safety, email
The Canadian Consumer Chemicals and Containers Regulations, 2001, contains the regulations that we must follow when classifying non-registered products for the Canadian market. There are many requirements for CCCR 2001 consumer labels in Canada but in addition to these requirements, there are other requirements that must be met to put your product on the shelf here.
As part of our service to our clients, we ask to see their mock label to ensure that all of the requirements are met before the printing process begins on your end. When we ask for these labels, one of the main mistakes we find is that the label is not using metric. In Canada, we are required to use the metric system on our labels.  Not only must we use metric, but there are also requirements for the preferred way of showing these units on your label.
Below is a picture taken from the Competition Bureau of Canada showing not only the units we use here but how they prefer them to be stated on your label for Canada. Our spelling is also unique here so please ensure words like litre are spelled correctly.  Liter is the American spelling whereas we use the word Litre using the British or Commonwealth spelling.
The below is taken directly from the regulations: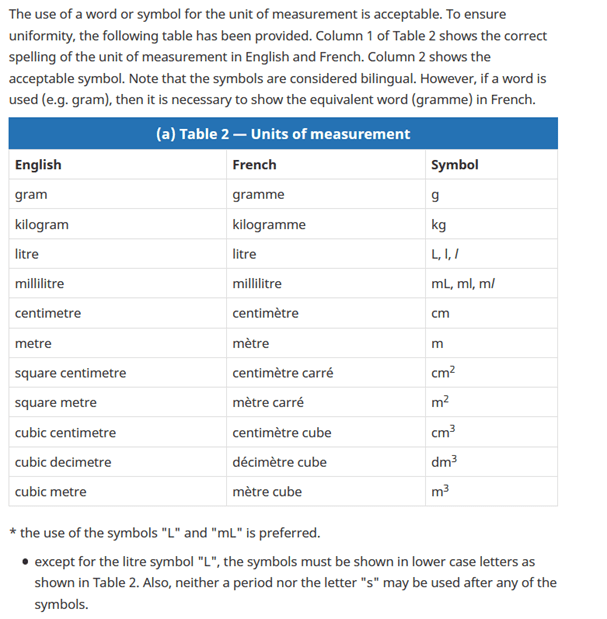 If you are having difficulty determining the requirements for your compliant consumer CCCR 2001 label in Canada and would like our help, do not hesitate to contact us. We have been classifying products for consumer regulations for more than 40 years and have the expertise in-house to help you keep your product compliant with the current regulations as they stand today. We can help ensure that your product label meets not only the CCCR requirements but the additional requirements such as the metric requirements discussed today.
For further information on our services, please contact:
Contact:
Dell Tech
Kirsten Alcock, B.Sc. (Hons) 
Manager, Product Safety Group
519-858-5074
kirsten@delltech.com
---
Dell Tech has provided professional, confidential consulting services to the chemical specialty
industry in Canada, the USA, Europe, and Asia for the last 40 years.
Contact us today for more information.