Aspiration Toxicity – Why am I seeing different classifications in Canada?
By: Kirsten Alcock, Principal Product Safety Consultant, email
Products for sale in Canada have different regulations that are applicable depending on your intended audience, claims you want to make, etc.
When we are looking at products that do not make any claims and are hazardous and come under the CCCR, 2001 or the Hazardous Products Regulations (HPR), there are different endpoints for certain classifications.
One classification that has caused some confusion is the aspiration toxicity category.
The endpoints for the CCCR are much more stringent than that of the HPR so you will see different classifications if you are selling the products to a consumer on a shelf versus if this product is intended for a workplace.
Below I will show a snapshot of the information from the regulations. Please ensure that you are following these guidelines when classifying your products for aspiration toxicity. The workplace cut-off is much higher than the consumer cut-off.
WORKPLACE, GHS in Canada:

CONSUMER, CCCR in Canada: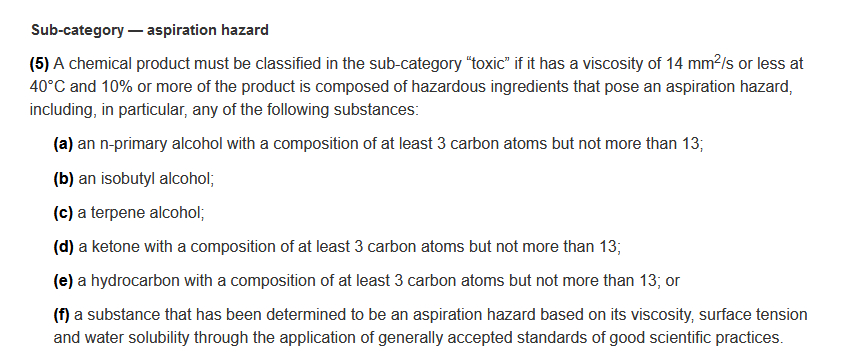 If you are having difficulty determining the requirements for your product compliance, let us know. We have the background and experience to know what to look for.
For further information on our services, please contact:
Dell Tech
Kirsten Alcock, B.Sc. (Hons) 
Principal Product Safety Consultant
519-858-5074
kirsten@delltech.com
---
Dell Tech has provided professional, confidential consulting services to the chemical specialty
industry in Canada, the USA, Europe, and Asia for the last 40 years.
Contact us today for more information.