What Changes are Coming to Supplemented Food Labels?
By: Joanna Chudyk, Regulatory Affairs Specialist, email
With the publication of the new Supplemented Food Regulations industry is responsible for ensuring compliance with the new regulations. Products that do not qualify for the transition period (read more on Supplemented Food Regulations Published July 2022) will need to comply with the regulations immediately upon introduction to the Canadian market.
One of the most significant changes coming to supplemented foods is the "Supplemented Food Facts Table (SFFT)" which is meant to replace the "Nutrition Facts Table" for this specific food category. The unique features of the table include the tailored heading "Supplemented Food Facts/ Info-aliment supplémenté", and a section titled "Supplemented with" that discloses each supplemental ingredient in the formula and the corresponding quantitative amount. The new facts table format is meant to improve transparency to consumers and help identify Supplemented Foods from conventional foods on the market.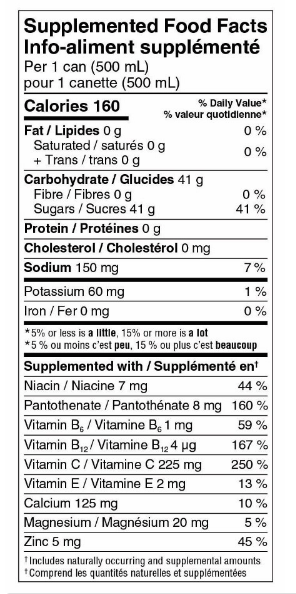 From the Government of Canada website –  About supplemented foods and their labels.
Other changes coming to the label are the front of panel icon that identifies the product as a supplemented food and cautionary statements that correspond to certain supplemental ingredients. The supplemented food icon, formally known as the Supplemented Food Caution Identifier (SFCI), is required for products that contain 1 or more Supplemental Ingredients that require cautionary statements. Details on cautionary statement requirements can be found in the List of Permitted Supplemental Ingredients.

From the Government of Canada website –  About supplemented foods and their labels.
If you have a product or a formula that you need to be evaluated against the new regulations, contact us for a quote today!
Contact:
Dell Tech
Joanna Chudyk, M. Sc. 
Regulatory Affairs Specialist
joanna@delltech.com
---
Dell Tech has provided professional, confidential consulting services to the chemical specialty
industry in Canada, the USA, Europe, and Asia for the last 40 years.
Contact us today for more information.