Concentration Ranges on a Canadian Safety Data Sheet (SDS)
By: Kirsten Alcock, Manager of Product Safety, email
One of the biggest non-compliances I continue to see when I receive supplier Safety Data Sheets (SDSs) is section 3 and the disclosure of ranges. In Canada, you are permitted to use one of the ranges set out in the Hazardous Products Regulations (HPR) BUT you must also then indicate that you are claiming that range as Trade Secret.
As per the HPR, the following are the acceptable ranges for an SDS in Canada: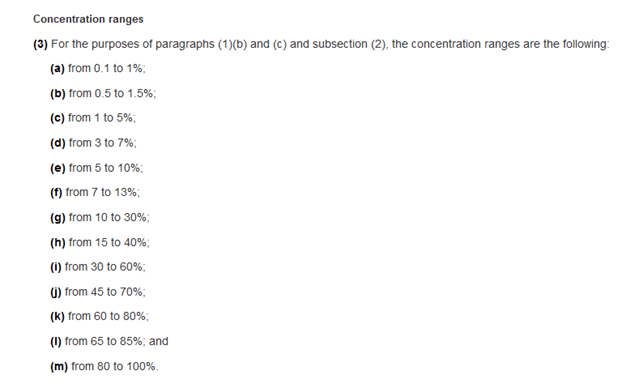 We continue to see SDSs with the ranges that were used under the Controlled Products Regulations (CPR) which is no longer valid. It was repealed when Canada moved to WHMIS 2015. Please ensure that your database software packages are up-to-date with these new ranges if you plan on placing a concentration range on your SDS. In addition to this, if you use a concentration range you are required to add a statement indicating that you are claiming Trade Secret. This is missing on so many SDSs. The following paragraph is taken directly from the HPR:

If you do not want to place the exact percentage of the hazardous ingredient on the SDS, there are requirements to do so.  Please ensure that your SDS authors are aware of this as not all software packages include this.
For more information on our services:
Contact:
Dell Tech
Kirsten Alcock, B.Sc. (Hons) 
Manager, Product Safety Group
519-858-5074
kirsten@delltech.com
---
Dell Tech has provided professional, confidential consulting services to the chemical specialty
industry in Canada, the USA, Europe, and Asia for the last 40 years.
Contact us today for more information.