Order Amending Schedule 2 to the Hazardous Products Act in Canada
By: Kirsten Alcock, Manager of Product Safety, email
The Order amending Schedule 2 to the Hazardous Products Act was published in the Canada Gazette, Part I on December 19, 2020.
There are two proposed changes to Schedule 2. The one that impacts most of my clients involves Aerosol Products. Item 3, Flammable aerosols.
The current Schedule 2 of the Hazardous Products Act (HPA) shows the following chart for Physical Hazard Classes.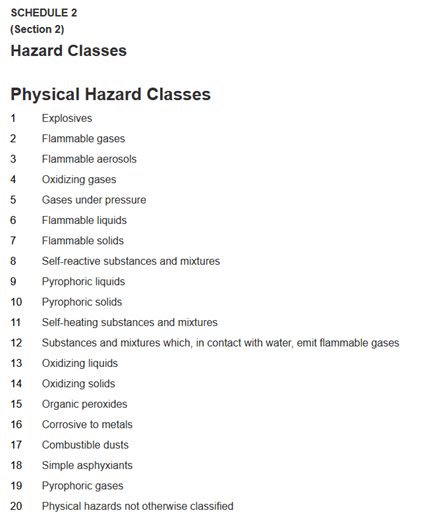 The proposed amendment is to change Flammable aerosols to Aerosols.  There will also be changes to Item 19, Pyrophoric gases. Item 19 is repealed. This is not a common classification for our clients but the change in aerosols will impact many Canadian companies and those who choose to sell their aerosols to Canada.
Stakeholders may make representations concerning the proposed Regulations and Order, within 70 days after their date of publication in the Canada Gazette, Part 1. all submissions must cite the Canada Gazette, Part I, the date of publication (December 19, 2020), and be addressed to:
Lynn Berndt-Weis
Director, Workplace Hazardous Materials Bureau
Consumer and Hazardous Products Safety Directorate
Healthy Environments and Consumer Safety Branch
Health Canada
Address Locator: 4908B, 269 Laurier Ave. West
Ottawa, Ontario K1A 0K9
Email: hc.whmis-simdut.sc@canada.ca
Health Canada welcomes your submissions by February 27, 2021.
If you have questions concerning the current regulations in force within Canada, please contact:
Contact:
Dell Tech
Kirsten Alcock, B.Sc. (Hons) 
Manager, Product Safety Group
519-858-5074
kirsten@delltech.com
---
Dell Tech has provided professional, confidential consulting services to the chemical specialty
industry in Canada, the USA, Europe, and Asia for the last 40 years.
Contact us today for more information.