Informal Hearing to Discuss Updates to OSHA's Hazard Communication Standard is Tomorrow
By: Kirsten Alcock, Manager of Product Safety, email
On May 20, 2021, the U.S. Department of Labor's Occupational Safety and Health Administration, OSHA, had issued a notice of informal hearing on the agency's Hazard Communication Standard (HCS).
The OSHA Trade Release advised that the hearing will begin tomorrow on Sept. 21, 2021, at 10 a.m., EDT, and will be held virtually using WebEx. If necessary, the hearing will continue from 9:30 a.m. until 5:00 p.m. EDT on subsequent days.
Additional information on how to access the informal hearing will be posted on an additional website provided by OSHA: 
The following is the information you will need for tomorrow: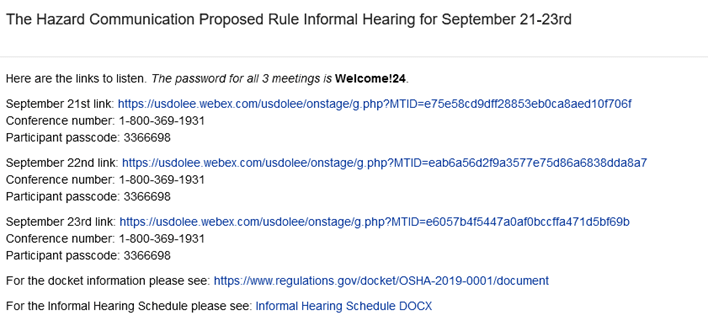 The Key Changes to the HCS (Hazard Communication Standard – HCS) can be found here.
Contact:
Dell Tech
Kirsten Alcock, B.Sc. (Hons) 
Manager, Product Safety Group
519-858-5074
kirsten@delltech.com
---
Dell Tech has provided professional, confidential consulting services to the chemical specialty
industry in Canada, the USA, Europe, and Asia for the last 40 years.
Contact us today for more information.