Incoming Changes to Manufactured Articles
By: Teah Jazey, Regulatory Affairs and Product Safety Associate, email
A manufactured article or item is a product that is shaped into a specific physical shape or design during manufacture. The final use function (or functions) is dependent in whole or in part on the article's shape or design. Manufactured articles are excluded from the definition of ''substance'' for the purposes of the new substances and SNAc provisions of the Act and consequently do not require notification. Examples of manufactured articles would include items such as electronic devices or textiles.
A draft document put out by the Government of Canada titled "Guidance Document for the Notification and Testing of New Chemicals and Polymers", set to be finalized in July 2022, will bring changes to what is classified as a manufactured article. This may cause a chemical to be subject to the New Substances Notification Regulations.
This guidance document outlines that substances are subject to notification if they do not meet the criteria of a manufactured article. This would include substances that are released from a manufactured article during use, such as a pen or a lipstick container.
The following tables are provided in the guidance document to provide examples of items that do or do not fall under the definition of a manufactured article.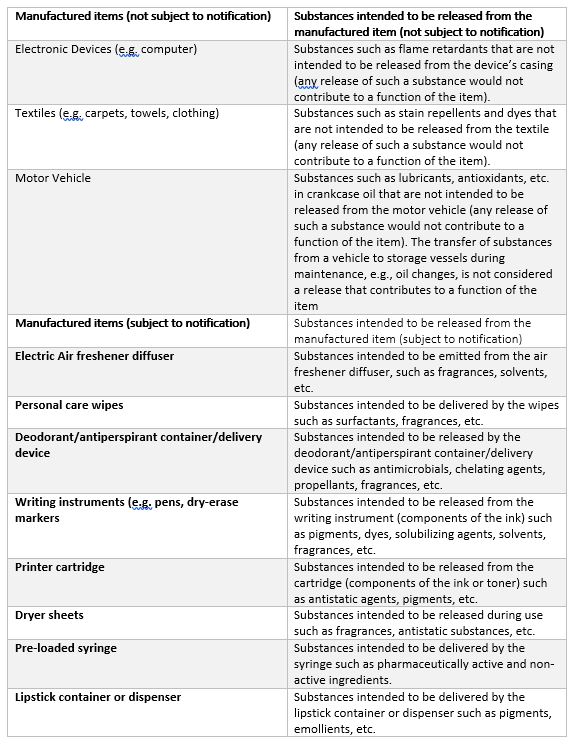 If your product remains a manufactured article, you will not have to make any changes to your process. If, however, a substance or substances are now considered to no longer be considered a manufactured article, you will have to determine if they are listed on the Domestic Substances List (DSL). If listed on the DSL, you do not need to take any action. Just continue as usual. If they are not listed on the DSL or Nondomestic Substances List (NDSL), you will need to:
1. Track your usage, and
2. Submit a new substance notification form if you go above the trigger quantities.
See the Guidance Document here.
Contact:
Dell Tech
Teah Jazey 
Regulatory Affairs and Product Safety Associate
519-858-5021
teah@delltech.com
---
Dell Tech has provided professional, confidential consulting services to the chemical specialty
industry in Canada, the USA, Europe, and Asia for the last 40 years.
Contact us today for more information.