Health Canada Releases New Policy on Packaging and Labelling of Alcohol Hand Sanitizers in Beverage Containers
By: Jacqui Jenskey, Senior Regulatory Affairs Specialist, email
With the exceptional demand for hand sanitizers and the shortage of regular packaging, some manufacturers have moved to packaging the products in beverage containers (water bottles, tetra packs, alcohol bottles etc.).  Health Canada has noted a significant increase in the number of adverse event reports related to this, especially in small children.  In order to reduce misuse and misrepresentation of hand sanitizers in these containers, Health Canada has issued a new packaging and labelling policy that must be in place by November 27, 2020.  Retail stock must be exhausted by this date and any inventory must be over-labelled with the correct caps and correct labels. The following cap types are no longer acceptable: drinking spouts, beer bottle caps, conventional twist-off caps or lids, corks.  Caps must clearly differentiate the hand sanitizer from a beverage.  The labels must include, on the top 50% of the principal display panel, the graphic below: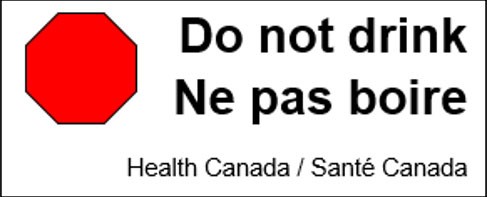 Hand sanitizers packaged in beverage containers and distributed after November 27, 2020, must have an appropriate closure along with the warning statement and graphic. Distribution in Canada of alcohol-based hand sanitizers packaged in beverage containers without these measures must stop after this date.
For additional information see the Health Canada announcement.
If your current Canadian site license does not list Packaging and/or Labelling as activities, you must amend your Site License for these activities. If you state in your amendment that this is for over-labelling due to the new packaging and labelling policy, Health Canada will review your application as quickly as possible to ensure you continue to be in compliance.
Let us know if Dell Tech can help you complete your documentation to amend your Site License.
Contact:
Dell Tech Laboratories
Jacqui Jenskey
Senior Regulatory Affairs Specialist
519-858-5021 x 2028
jjenskey@delltech.com
---
Dell Tech has provided professional, confidential consulting services to the chemical specialty
industry in Canada, the USA, Europe, and Asia for the last 40 years.
Contact us today for more information.
---