GHS Classifications and Different Adoption Requirements
By: Kirsten Alcock, Manager of Product Safety, email
The GHS stands for the Globally Harmonized System and as I've advised in the past, it is not AT ALL harmonized globally. Different countries have adopted different versions of the GHS so while one country may be on an earlier version, another may be on the latest and greatest – Version 8.
In addition to this, each country may adopt additional classifications that they feel are appropriate for their country. Recently one of my clients asked why I classified the product as a combustible dust? Where is that in the Purple Book?
In Canada, we are required to classify our workplace non-registered products in accordance with the Hazardous Products Regulations (HPR). There are of course exemptions to this which we can help you with.
Schedule five of the Hazardous Products Regulations contains information elements for specified categories such as combustible dust. Although you will not see this category within the purple book, you are required to classify your product as such in Canada (and the United States) if it meets the criteria.
Below you will find information taken from the Hazardous Products Regulations in Canada: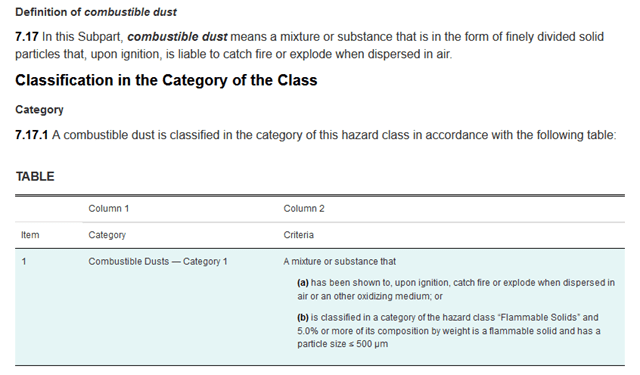 The label requirements for a Combustible Dust in Canada are as follows:

If you need help with the authoring of a SDS that is compliant with Canada or the US, please contact us. We can ensure that your SDS will meet compliance with the GHS and any additional hazard classifications for both of these countries. Although there are differences in the requirements between the countries, we can provide you with an SDS that will not only meet compliance with the format, but we can provide an SDS in English/Canadian French and Spanish for your users.
Contact:
Dell Tech
Kirsten Alcock, B.Sc. (Hons) 
Manager, Product Safety Group
519-858-5074
kirsten@delltech.com
---
Dell Tech has provided professional, confidential consulting services to the chemical specialty
industry in Canada, the USA, Europe, and Asia for the last 40 years.
Contact us today for more information.