California Prop 65 Short-Form Warning: Proposed Amendments
By: Joe McCarthy, Lab Service Manager/Senior Regulatory Affairs Specialist, email
On January 8, 2021 The California Office of Environmental Health Hazard Assessment (OEHHA) published a Notice of Proposed Rule Making to place conditions of use on the Safe Harbor Clear and Reasonable Warnings "Short-Form Warning".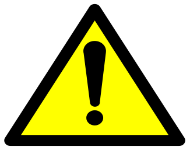 The proposed change to the use of the Short-Form Warning, also referred to as the on-package warning, is triggered by;
1)  It is not required to identify a chemical or chemicals in the short-form warning,   which significantly limits the usefulness of the warnings to consumers.
2) The short-form warning was widely used for products that can easily accommodate a longer warning.
3)  The short-form warning was used prophylactically when no warning is required.
The proposed amendments would;
Only allow the short-form warning on products with 5 square inches or less of label space AND the package shape or size cannot accommodate the full-length warning AND the warning is in a type size no smaller than the largest type size used for other consumer information on the product and in no case smaller than 6-point type.
Eliminate use of short-form warnings for internet and catalog warnings.
Clarify how short-form warnings can be used for food products.
Require that the name of at least one chemical be included in the short-form warning.
Allow a 1-year phase in form the date the amendments come into force.
Permit an unlimited sell through period for products that were compliant before the amendment comes into force.
When was the last time your formula was reviewed to determine if a Prop 65 warning is required?
Did you know about the California Cleaning Product Right to Know Act of 2017 that requires label and website ingredient disclosure as of January 1, 2021?
The time is now to have Dell Tech Laboratories help you create labels compliant for both California and the Federal Consumer Product Safety Commission.
Contact:
Dell Tech
Joe McCarthy, Senior Regulatory Affairs Specialist
jmccarthy@delltech.com
519-858-5024
---
Dell Tech has provided professional, confidential consulting services to the chemical specialty
industry in Canada, the USA, Europe, and Asia for the last 40 years.
Contact us today for more information.